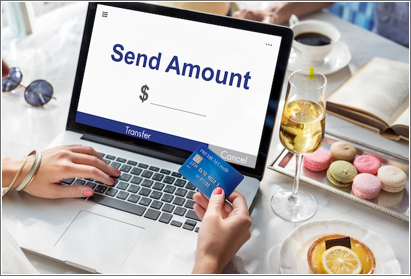 When it comes to travelling outside the country or sending money to your loved ones, using the best money transfer services is essential. However, when choosing the best company, you'll need to be diligent. Conducting proper research and knowing about the best services can guarantee safe and secure transactions at all times.
That's why, today we'll be looking at the some of the leading money transfer services in the country, the RBI guidelines for money transfer and Transwire – the easiest way to transfer money internationally.
The Leading Money Transfer Options in India Wise
Wise can be a wise choice when it comes to transferring money. The app is considered to be the leading authority in global remittances. Wise is a UK-based business that's growing at an astronomical pace in the Fintech.
Wise is known for using a transparent approach to global payments alongside offering a multitude of transfer options. Coupled with these features, its online platform and mobile app are easy and simple to use. The business' promise is to offer transfers at a rate that's 2x lower in comparison to its competitors.
Instarem
Instarem is highly-rated in the money transfer industry. This firm based out of Singapore handles remittance requests across APAC, India being one of its main markets. The business stands out by offering minimal transfer charges and offering a near-to 0 exchange rate margin. Their customer service is available around the clock with a number of their service teams based in India. All-in-all, Instarem is one of the most credible brands in the market.
Ria Money Transfer
With a global agent network, Ria Money Transfer offers its customers options to transfer funds online and offline! The company earned its goodwill primarily due to its cash payout system. With home delivery and collection services offered across 400,000+ locations worldwide the accessibility Ria provides is high. Additionally, against the industry average of 3-5 days of processing debit and credit card payments, Ria makes them available instantly to their customers. Summing it up, Ria makes it to the top-3 services in India.
Now that you know about the international money transfers, let's take a look at RBI and its AD 2 guidelines.
RBI – Authorised Dealer Category II
The Reserve Bank of India provides a category for NBFC institutions under category 2 to deal in foreign exchange. The list of vendors allowed to deal in foreign exchange currently is:
Upgraded FFMCs,
Select RRBs
Select UCBs
Other entities
Due to a large portion of the Indian diaspora being connected to foreign remittances and other FOREX transactions, RBI has taken an initiative to expand the current network and include selected organisations into the network. It translates into greater opportunities for Indian business to offer FOREX services.
Additionally, the RBI mandates that NBFCs offering FOREX services need to have a board approved policy on the management of risks and handling customer grievances that arise out of any such activities. The RBI also has set up the requirement of a monitoring mechanism that needs to be in place for monthly audits.
In spite of expanding the ecosystem, RBI has maintained that there will be a tight leash on the leeway given to such organisations on handling FOREX transactions on a daily basis. The process of granting licenses reflects this thoroughly. RBI is only granting licences to those NBFCs having a minimum investment grade rating.
Lest assured, this is good news for customers. You can now transfer money via local authorised dealers of RBI category II without any stress. The extreme level of oversight put in place by the central bank ensures secure and safe transactions without any delay. Additionally, the authorised dealers you can access locally will also be NBFCs of the highest order in the country.
Transwire – Your Next Step to Easy Money Transfers
Transwire is an AD2 as authorised by RBI. The business seeks to simplify FOREX transactions for customers using AI integrated software to single out the best rates available 24/7. By using Transwire, you can transfer money simply by singing on, booking a currency and paying the amount.
Some of the top reasons for which we recommend choosing Transwire are:
Category II Authorisation by RBI makes the service one of the most reliable services in the country,
500,000+ satisfied customers pan-India,
The business has roughly 22 branch offices across the country to ensure each customer is within reach,
SaaS based systems employed by the business makes FOREX transfers safer by taking advantage of cloud based two-factor OTP authentication and other security protocols,
Transactions are made quicker as the pipeline is completely automated and self-reliant,
24/7 customer support for instant query and grievance resolution.
Thus, Transwire is a next-level method to transfer money across borders easily. By using Transwire, you as a customer reap the following benefits:
Best currency deals are available at all times due to the live tracking system of Transwire
You can block your desired currency rate for up to 3 working days.
The transfer rates you access at Transwire are cheaper than most banks,
The Swift Wire Transfer system is super-fast and gets your FOREX transactions completed almost instantaneously,
There are no hidden costs at all
Thus, using Transwire can change the way you transfer money completely. With the 2-factor authentication and lightning fast transaction process, transferring money to your loved ones, for education, or travel can be done from the convenience of your home.
Transfer Money without the Stress
Going to a physical store or navigating a complex app may often be challenging when transferring money. That's why we urge you to choose Transwire – an absolutely home-grown FOREX service. Transfer remittances and other payments from the convenience of your home in no time.
Check out Transwire and services you can avail. In case you have further queries, feel free to reach out to their customer service that's available 24/7. Make transferring money to your loved ones a process that's as smooth as silk. Ensure that your money is safe hands with Traswire's top-notch RBI-authorised secure payments service!